Hello Microsoft!
On april 29th 2013, I joined Microsoft's legendary Developer and Platform Evangelism team, where I will initially focus on the Enterprise market. I will report to Technical Fellow John Shewchuk, joining his new team of top-notch technical evangelists, like Xoogler James Whittaker and Microsoft veteran Eric Schmidt. Mary Jo Foley wrote a nice piece about our team on ZDNet today. I will be based in the Microsoft San Francisco office.
How did it happen?
I spent most of my career competing with Microsoft, at Netscape, Sun, Google and VMware. Competition builds respect, competitors force you to question your assumptions and to constantly evolve. For many of my friends, this move came as a total shock. What made me open to the idea of joining Microsoft is a presentation from Scott Guthrie about Windows Azure at NodeConf 2012 last summer. He presented from a Mac laptop, launched Google Chrome, went to the Cloud9 IDE, edited a Node app pulled from Github, and pushed it to Azure from the cloud IDE: to me this indicated a real change of mentality at Microsoft, and a new openness. Clearly they had listened to what developers ask from a cloud platform. Later on, when my friend Srikanth Satyanarayana pinged me to start conversations with Microsoft, I was open to it. I met with Satya Nadella, and realized that our visions for where the cloud was going were very aligned. Further conversations with Scott Guthrie about Azure, John Shewchuk and Steve Guggenheimer about developer evangelism convinced me this was an adventure I had to take!
Why Microsoft?
Joining Microsoft boils down to 4 reasons: People, Learning, Technology, Impact.
People: in my late 30's I realized that the people you work with, for and around are as important as what you're working on. Microsoft has many people I have admired from the outside, like Dare Obasanjo, Eric Meijer, Scott Guthrie, Jon Udell, Scott Hanselman, Jeff Sandquist, Andrew Shuman or Anders Hejlsberg. The team I join has a fantastic roster of A-players with whom I'll have fun and from whom I will learn.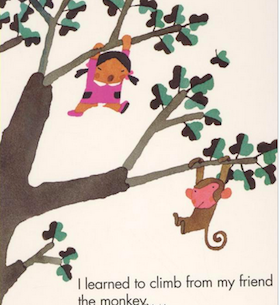 Learning: I'm a learner at heart. I am curious, I read a lot, and I like to learn from people I work with. I also love to share what I learned with others. My kids loved this book called My Friends, by Taro Gomi, which goes like this: "I learned to walk from my friend the cat, I learned to jump from my friend the dog…".
In my career it worked the same way: I learned algorithmic from my teacher Christian Vial, I learned internet protocols from my friend Nicolas Pioch, I learned open source from my friend Alejandro Abdelnur, I learned social media from my friend Loic Lemeur, I learned developer relations from my friend Vic Gundotra, I learned platform strategy and storytelling from my friend Charles Fitzgerald… I love doing developer relations, and my two mentors in this area over the past 8 years, Vic and Charles, both came from the Microsoft DPE team. I'm coming to the source for more learning. This team is more than a 1000 people worldwide, and over the past 10 years they defined what tech evangelism is about: they operate at a larger scale and cover a wider scope than any of the teams I worked with. I am very excited to join them.
Technology: Windows Azure is Enterprise ready, more open than people think, and is a complete platform, from infrastructure to services, mobile and Big Data. Azure has matured a lot in the past few years, it covers IaaS, PaaS and Saas, their Paas service is multi-framework and multi-service, with a marketplace of add-ons, it has a mobile backend as a service for Windows Phone, iOS, Android and HTML5, and includes Hadoop and Big Data services. It is in production today, has been battle tested for years as the base for many Microsoft first party apps and services, and is ready for the Enterprise, with a true public/private/hybrid solution: with Windows Server 2013, System Center and Azure you can start building your hybrid cloud today.. The team ships important new features regularly, my favorite being the point to site and software vpn features announced a few weeks ago, which will drastically lower the barrier to create hybrid clouds. Azure is not a Windows/.NET only platform, it is more open than people give it credit for: you can provision Linux VMs, and the PaaS supports .NET, Java, PHP, Node, Python, Ruby, with open source (Apache 2 license) SDKs on Github and an Eclipse plugin, built by the Microsoft Open Technologies team. Scott Guthrie gives a very good overview of Windows Azure in this video from the Windows Azure Conf 3 weeks ago.
Impact: as a kid, I was reading a lot of science fiction, and got my first computer (a TRS-80) when I was 10 years old. As I explain in many of my presentations (like Portrait of the developer as The Artist), my childhood dreams were to change the world through technology, and more specifically computers. My dreams are far from being fulfilled today: it is true that we have more powerful machines and software tools, and technology changed the world in many aspects, but machines are still hard to program, and software engineering needs to evolve to let us work at a higher level of abstraction.
The move to a devices and services world is an important architecture change like we see every 20 years in the software industry. Cloud platforms have the potential to help developers build smarter applications faster, and change entire areas of the human experience. It has started to happen in the consumer applications space, but the next big wave of change is the consumerization of Enterprise IT, where developers and IT professionals can completely transform the way enterprises work, driving business value faster, enabling new capabilities and business models. My goal is to help them in this transformation, and Microsoft is the place where I can have the most impact.
Here's a quick video to summarize it all: developers, developers, developers, think big and look up at the sky, its color is Azure!
If you have never tried Azure, or have tried it a year ago, sign up for a free trial and give it a go! I hope to see many of you at the Build conference in June in San Francisco.
Tags: azure, cloud, microsoft, Perso